AANN Educational Products
AANN has created a number of books, downloads, practice exams, recordings, and review courses to help elevate your neuroscience practice.
For more information about the products below, to see our full catalog, or to make a purchase, please visit our Online Store.
Books
AANN Comprehensive Review for Stroke Nursing,
2nd edition
This essential resource has been updated to reflect the latest in stroke nursing. The 2nd edition reflects new studies and clinical practice guidelines and includes new figures and tables for ease of use and learning. Purchase your copy now.
AANN Core Curriculum for Neuroscience Nursing, Sixth Edition
The Core Curriculum is a comprehensive resource for the practicing neuroscience nurse and nurses preparing for the Certified Neuroscience Registered Nurse (CNRN) or Stroke Certified Registered Nurse (SCRN) exams.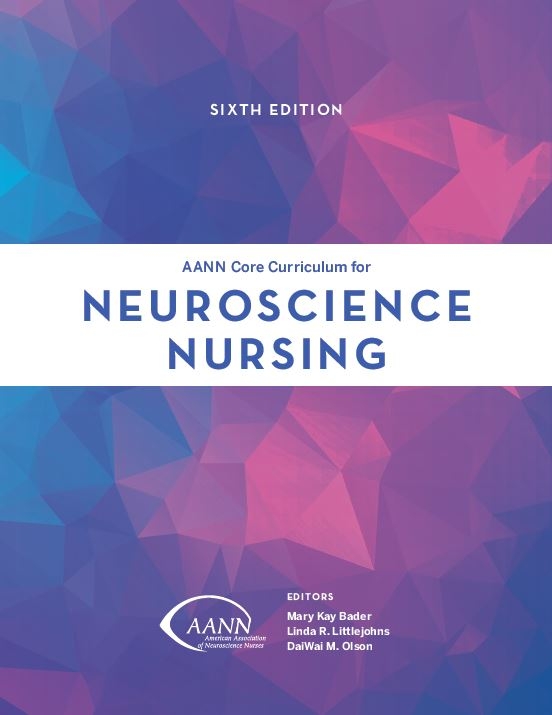 Clinical Practice Guidelines Pocket Guide
The clinical practice guidelines (CPGs) are available for download and provide an overview on caring for a specific patient population. The CPG Pocket Guide is a collection of useful images and graphs from the CPGs. Designed to be a portable reference guide, these cards are wipe-able and perfect for taking to the bedside.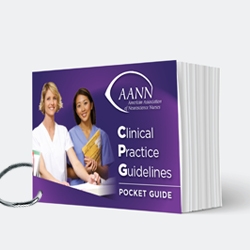 Scope & Standards of Neuroscience Nursing Practice
AANN and the American Nurses Association (ANA) have collaborated to produce Neuroscience Nursing: Scope and Standards of Practice. This publication guides RNs through the essentials of neuroscience nursing and provides a framework for practice at all levels and settings. It reflects the most current thinking in the specialty and offers a blueprint for neuroscience nursing philosophy, principles, and practices.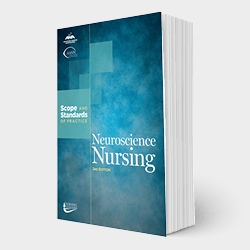 Practice Exams
Certified Neuroscience Registered Nurse (CNRN) Self-Assessment Examination
The AANN CNRN Self-Assessment Examination is a 75 question pretest to assess your current knowledge as it applies to neuroscience certification.
Stroke Certified Registered Nurse (SCRN) Self-Assessment Examination
Use the SCRN Self-Assessment Examination as a pretest to assess your current knowledge as it applies to certification. The self-assessment examination is 75 questions in length and parallels the actual SCRN examination content outline.
Adventures in Neuroscience DVD Series
Available in single or as a two-pair bundle, is the Adventures in Neuroscience DVD series, endorsed by AANN.
Review Course
The SCRN Review Course is a web-based review that includes interactive videos and quizzes to help you prepare for the SCRN exam or to review stroke nursing best practices.
Click here for more information about purchasing the SCRN Review Course for your institution. Group discounts start at 10% off the member rate.

The CNRN Review Course includes comprehensive instructor led videos, and interactive knowledge checks, with correct and incorrect answer descriptions. Purchase the CNRN Review Course as individual modules or the full 30 module course.