Spirit of Neuroscience Nursing Photo Contest
Each year AANN hosts a photo contest to which neuroscience nurses are invited to submit pictures of colleagues, patients, and families.
2017 Spirit of Neuroscience Nursing Photo Contest Criteria
Capture pictures of your colleagues, patients, and families to submit to the AANN Spirit of Neuroscience Nursing photo contest. Your photo will be displayed on AANN's Facebook page and during AANN's 49th Annual Educational Meeting where members and attendees will vote for their favorite images. The member whose photo receives the most votes will win a complimentary conference registration to the AANN 50th Annual Educational Meeting in San Diego, CA.
Submission Requirements
Photo should convey the spirit of neuroscience nursing.
Submissions should be in electronic (JPEG, TIF, GIF) format.
A short description of no more than 50 words (including all photo subjects' names and genders) must accompany each photo submission.
A signed permission from each person (patient, family, or nurse) in each photo must accompany the submission.
All submissions become property of AANN and will be widely shared throughout AANN media, including AANN Neuroscience News.
Send all submissions to Stefanie Carbone, AANN Coordinator at scarbone@aann.org by Monday, February 27, 2017.
2016 Photo Contest Winner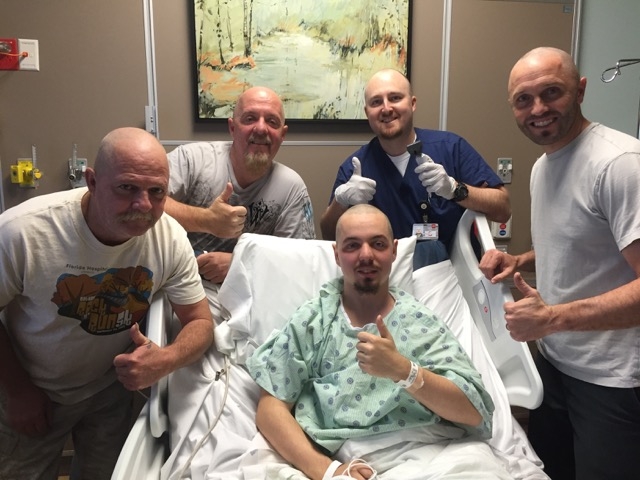 Congratulations to the 2016 Spirit of Neuroscience Nursing Photo Contest winner, "Pre-op Head Shaves before Craniotomy for Everyone!" submitted by Suzanne Ashworth. Suzanne has won a free registration to the 2017 Annual Meeting in Boston!
Photo Caption: Orlando Regional Medical Center Neuroscience ICU provides holistic care by meeting the physical and emotional needs of the patients and families. Pre-op head shaves before a craniotomy for everyone!
Pictured: Paul Barkhau, RN, Robbie Poe, Nathan Wilder, Michael Poe, Charles Poe
*Consent for taking, publication, and use of this photograph is on file.