Spirit of Neuroscience Nursing Photo Contest
Each year AANN hosts a photo contest to which neuroscience nurses are invited to submit pictures of colleagues, patients, and families.
2020 Spirit of Neuroscience Nursing Photo Contest Criteria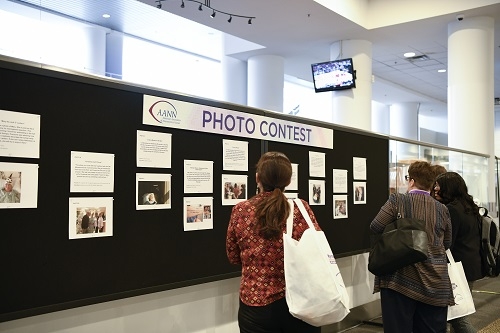 Capture pictures of your colleagues, patients, and families to submit to the AANN Spirit of Neuroscience Nursing photo contest. Your photo will be displayed on AANN's Facebook page and during AANN's 52nd Annual Educational Meeting where members and attendees will vote for their favorite images. The member whose photo receives the most votes will win a complimentary conference registration to the AANN 53rd Annual Educational Meeting in San Antonio, TX.
Submission Requirements
Photo should convey the spirit of neuroscience nursing.
Submissions should be in electronic (JPEG, TIF, GIF) format.
A short description of no more than 50 words (including all photo subjects' names and genders) must accompany each photo submission.
A signed permission from each person (patient, family, or nurse) in each photo must accompany the submission.
All submissions become property of AANN and will be widely shared throughout AANN media, including AANN Neuroscience News.
One submission per person
Send all submissions to Samantha Wagner at swagner@aann.org by Tuesday, March 31, 2020.
2019 Photo Contest Winner
Congratulations to Brandon Lang, RN, for submitting the winning photo, "Linda's Moment in the Sun." Brandon has won a free registration to the 52nd Annual Meeting in Orlando, FL.
Photo Caption: "Linda graced our presence after stroke in the first bed of a two person room. The sunrise was perfect but she never would have known. I asked if she would like to sit near a window and felt the way she looked during her moments in the sun!"
*Consent for taking, publication, and use of this photograph is on file.