Special Events
Saturday, April 18
3-4:30 pm
Innovation Corner in the Exhibit Hall

Innovation Corner is a special pre-conference session connecting neuroscience nurses with the latest technologies and innovations in neuroscience care. This is an opportunity to interact with the latest treatments, devices, and products that enhance nursing practice and patient care and outcomes. Innovation Corner will feature up to 8 stations with hands-on demonstration of new technologies and innovations. This session does not offer CE.
Please join Greenwich Biosciences and Neurelis at the Innovation Corner
5-5:30 pm
Newcomer's Reception

Attending your first AANN Annual Meeting? Join us at the Newcomer's Reception to meet other first timers and AANN leaders. Mingle while you enjoy drinks and make new friends.
5:30-7:30 pm
Opening Reception with Posters and Exhibits

Meet the exhibitors, view the posters, and mingle with your neuroscience nursing colleagues at the opening reception.

Visit our Industry Posters:
Safety and efficacy of Inbrija (levodopa inhalation powder, CVT-301) on motor function during OFF periods in patients with Parkinson's disease

As Parkinson's disease advances, patients will experience OFF periods, which is when Parkinson's disease symptoms return despite baseline oral therapies. Inbrija (CVT-301), an approved inhaled levodopa, is indicated for treatment of OFF episodes in patients with PD on a carbidopa/levodopa regimen. This abstract and poster will review Inbrija's efficacy and safety as determined by its clinical program and will provide insight into clinical experience and use.
Supported by Acorda Therapeutics, Inc.
Safety and Tolerability of Diazepam Nasal Spray in Relationship to Usage Frequency in Subjects With Epilepsy: Interim Results From a Phase 3, Open-label, Repeat Dose Study
In an interim analysis of long-term safety/tolerability, repeat dosing of diazepam nasal spray demonstrated a safety/tolerability profile consistent with what may be expected for diazepam, appearing independent of usage frequency. No trends were observed for TEAEs, clinical/laboratory tests, or olfactory changes with higher usage frequency; nasal irritation was mild.
Supported by Neurelis, Inc.
Efficacy and Safety of Once-Daily Opicapone 50 mg in Patients with Parkinson's Disease and Motor Fluctuations: Pooled Analysis of Two Randomized, Double-Blind, Placebo-Controlled Studies

Opicapone is a once-daily catechol-O-methyltransferase inhibitor under US FDA review as an adjunct to levodopa/carbidopa for Parkinson's disease patients experiencing OFF episodes. Results from 2 pivotal Phase 3 trials (BIPARK-1[NCT01568073], BIPARK-2[NCT01227655]) were pooled to evaluate the efficacy and safety of opicapone 50mg in patients with Parkinson's disease and motor fluctuations.

Supported by Neurocrine
Health-Related Quality of Life in Patients with Possible Tardive Dyskinesia Based on Patient and Clinician Assessments

Tardive dyskinesia is a persistent and potentially disabling movement disorder associated with prolonged antipsychotic use. In this real-world screening study, patients with involuntary movements who were treated with antipsychotics were assessed. Post hoc analyses were conducted to measure the impact of possible TD on patient health-related quality of life.

Supported by Neurocrine
Sunday, April 19
10:30–11:30 am
Being a Change Agent
Susan B. Fowler, PhD RN CNRN FAHA; Ebonye Green, MNSc ACNPC-AG CNRN APRN; Noah
Jacobson, MNSc RN

Neuroscience nurses connect with people daily. We create relationships with our neuroscience patients and their support systems through our actions and words. The key to successful advocacy is sharing a concise and compelling story about your patient population to those who influence policy. By illuminating our daily interactions and creating opportunities, we can create change for neuroscience patients. This interactive session will feature a personal account of advocacy for the traumatic brain injury patient population from Dr. Sue Fowler and a panel discussion on being a change agent in your own facility.
Corporate Showcase -- Exhibit Hall, Booth 100
12:15-12:45 pm
Cannabis: Where are we Now?
Cannabis has been the focus of considerable debate, advocacy, and policy, generating both interest and misinformation.
This presentation will introduce terminology to enable a common discussion around recent Hemp Farm Bill regulation changes and the patchwork of state regulations.

Supported by Greenwich Biosciences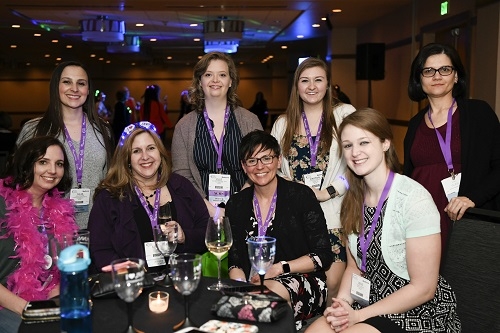 Monday, April 20
12:15-1:45 pm
Non-CE Symposium--Not all OFFs are the Same: A Discussion on Parkinson's Disease and OFF Episodes
Supported by Sunovion – Seating is limited to the first 300 attendees.
Please register by calling 888.557.2266 | 847.375.4733
7-10 pm
AMWF Light Up Luau
Cayman Court
Extra $30 fee applies.

Enjoy a night of fun, music, and dancing with your neuroscience nursing friends at a luau themed party! Proceeds support AMWF grants for neuroscience nursing education, certification, and research.
Tuesday, April 21
9:55–10:55 am
Is Inclusion an Illusion? Challenging Ourselves to Lead
Panel moderator: Mary McKenna Guanci, MSN RN CNRN SCRN
Panelists: Lawrence Chyall, MS RN CNS; Katelyn Bushey, MSN RN ACNS-BC; and Susanna
Schwiesow, BSN RN

This interactive course will explore strategies for enhancing awareness and fostering inclusiveness. We will explore behaviors that challenge the creation of inclusive environments and may disrupt the benefits of diversity in the workplace. The course will provide the necessary knowledge and skills for future leadership within an evolving global leadership paradigm.
Learn About the Fall Stroke Conference