Special Events
VIEW THE ANNUAL MEETING BROCHURE

AMWF After Dark
7:30-10 pm | Thursday, March 21
Extra $25 fee applies
Join your colleagues for an evening of fun at AMWF After Dark. Dance the night away and share drinks, food, and fun! You will not want to miss this AMWF celebration!

The American Nurse Book Signing
9:30-10:30 | Friday, March 22
Exhibit Hall
Purchase your copy of The American Nurse in advance for $45 or purchase the book in Denver for $55. Sales tax is included in the book price and copies will be distributed with your registration packet. Author Carolyn Jones will be signing the books in the exhibit hall immediately following her keynote presentation. If you already registered for the Annual Meeting and would like to purchase a book, call AANN member services at 847-375-4733.
Being an Advocate
10:30–11:30 am | Friday, March 22
Panelists: Cathy Cartwright, MSN RN-BC PCNS FAAN; Lawrence Chyall, MS RN CNRN; Ebonye
Green, APRN

Nurses can effectively advocate for their patients at the bedside, the hospital, city hall, and the statehouse. This interactive session will focus on two ways to advocate: Choosing Wisely and Advocacy at the State and Local Level. Choosing Wisely is an initiative of the ABIM Foundation that seeks to advance a national dialogue on avoiding unnecessary medical tests, treatments, and procedures. We also will present a panel discussion on how to be an advocate for neuroscience patients in your city and state.
Beware of Your Bias! Fostering Great Leadership Skills
1:55–2:55 pm | Friday, March 22
Panel Moderator: Twyila Lay, MS ACNP CNRN
Panelists: Ebonye Green, APRN; Mary Guanci, MSN RN CNRN SCRN; Maianh Tran-Allen, BSN RN CNRN

This interactive course will explore strategies for enhancing awareness and fostering inclusiveness within a diverse environment. We will explore strategies for reducing and mitigating internal and external attitudes and implicit bias to create a culture of accountability. The course will provide the necessary knowledge and skills for future leadership within an evolving global leadership paradigm.
Panel Discussion of the Updated Neuroscience Nursing: Scope and Standards of Practice
11:40 am–12:10 pm | Saturday, March 23
Panelists: Janice L Hinkle, PhD RN CNRN; Lori Kennedy Madden, PhD RN ACNP-BC CCRN CNRN; Daphny Grace M. Peneza, MSN RN CNOR CSSM

This session will discuss the recently released 3rd edition of Neuroscience Nursing: Scope and Standards of Practice. Panelists will provide examples of how the new edition applies to both bedside and advanced practice nurses at the practice level, summarize the scope of nursing practice in relation to standards for competent practice and professional performance, and discuss how nurses can employ professional resources to overcome barriers to professional nursing practice at the fullest extent of their nursing license.
Non-CE Lunch Symposium
12:15-1:45 pm | Saturday, March 23
Sponsored by Sunovion Pharmaceuticals, Inc.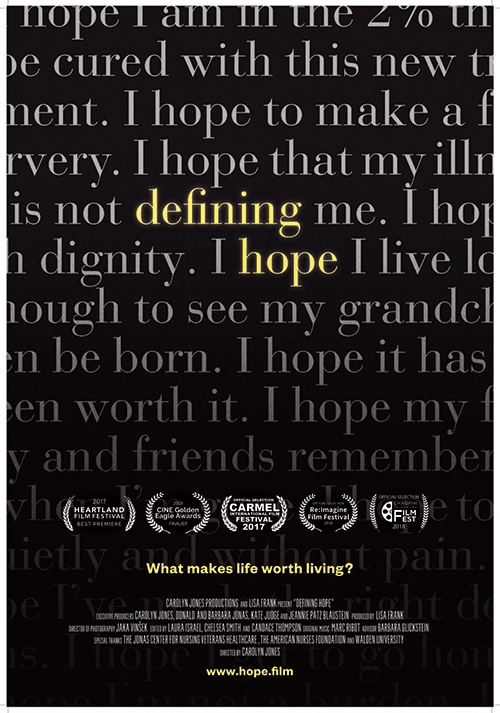 AMWF DEFINING HOPE MOVIE SCREENING AND Q&A WITH PRODUCER CAROLYN JONES
7:30-9 pm | Saturday, March 23
Extra $30 fee applies

Filmmaker Carolyn Jones spent four years interviewing and photographing nurses for the groundbreaking American Nurse book and film, and another year of research and interviews focused on what Dying in America looks like, all of which has led her to making this new film, the culmination of a journey, called Defining Hope.
Defining Hope is a story about people weighing what matters most at the most fragile junctures in life, and the nurses who guide them. It's a documentary that follows patients with life-threatening illness as they make choices about how they want to live, how much medical technology they can accept, what they hope for and how that hope evolves when life is threatened. It is optimistic and reminds us that we have choices in how we die.
Learn About the Fall Stroke Conference