Plan Your Trip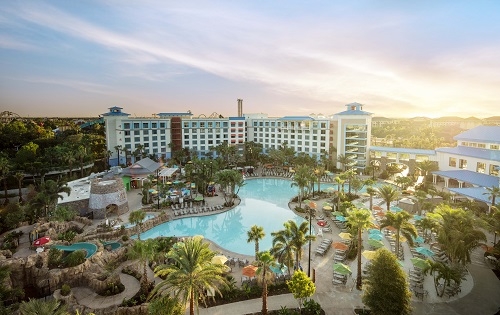 Sapphire Falls Resort TM & © 2018 UCF Hotel Venture III. All Rights Reserved.
Meeting & Hotel Location
Loews Sapphire Falls Resort at Universal Orlando™
6601 Adventure Way
Orlando, FL 32819
(407) 503-5000
Rate: $199 (single/double), $224 (triple), or $249 (quad)
Loews Reservation Center: 866-360-7395
Cutoff Date: Monday, March 9, 2020
Online Reservation Link: Click here for online reservations.
The limited, special rate is $199 (single/double), $224 (triple), or $249 (quad) and the cut-off date is March 9, 2020. This special rate will apply until the cut-off date, or when the room block is filled; at that point, higher rates may apply. AANN has secured a limited number of sleeping rooms at the special discounted rate. Please be sure to make your reservations early and to indicate that you are attending the AANN conference.
Why Stay at the Loews?
The Loews has a free water taxi that will take you from the hotel to Universal CityWalk. From CityWalk, you can take other water taxis to other properties. You guest room key card gives you access to all of the hotel pools on campus.
Airport Information
Orlando International Airport
1 Jeff Fuqua Blvd
Orlando, FL 32827
Ground Transportation
From Orlando International Airport
Distance: 17.2 miles
Drive time: approx. 25 mins
Guests will need to take a taxi, uber or rent a car from the Orlando airport to the Hotel. There is no hotel shuttle or train system to take. There is a public bus transportation, details can be found here: https://www.golynx.com/
Taxi: Estimated $55-60 one-way
Uber: Estimated $30 one-way
Lyft: Estimated $25-30 one-way
Parking
Self-Parking: $25 overnight per night. Daytime parking: 0-5 minutes complimentary, 5-30 minutes: $10 plus tax, 30+ minutes: $45 plus tax
Valet: $32 overnight per night. Day parking is $37 per day
AANN does not reimburse for parking.
Weather/Conference Attire
Orlando's average high in April is 84°F and the average low is 63°F.
Meeting room temperatures tend to vary. Please bring a light sweater or jacket to all meetings.
Discounted Attraction Tickets
While in Orlando for your conference, you'll want to take advantage of Visit Orlando's special discounts to convention attendees to explore Orlando's famous dining and entertainment options. You and your family may enjoy a full-day or multi-day discounted theme park and attraction tickets. Or special discounted afternoon convention tickets may also be available for you to enjoy some of the parks after your meetings are done. Arrive early or extend your stay to experience all of the excitement that Orlando has to offer.
Coronavirus Statement
We want to assure anyone planning to attend the AANN Annual Meeting in Orlando from April 18-21, 2020, that their health, safety, and well-being are our top priority. AANN is paying close attention to statements from the Centers for Disease Control and Prevention and World Health Organization's regarding the novel coronavirus (COVID-19) and is following the guidelines from these agencies and local health departments. Central Florida does not currently have any travel restrictions recommended by the CDC or Florida Department of Health at this time. AANN will continue to monitor the situation.
Local Information
For information on the city of Orlando, visit https://www.visitorlando.com/en
For a map and list of restaurants in the area, visit https://www.visitorlando.com/en/things-to-do/restaurants/orlando-districts
LEARN ABOUT THE FALL STROKE CONFERENCE