Plan Your Trip
Conference App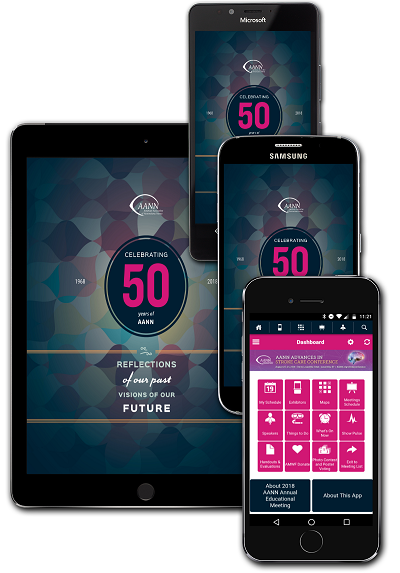 Download the 2018 AANN Annual Meeting app. With the mobile app you can stay organized with up-to-the-minute exhibitor, speaker, and event information. You can build a personalized schedule, take notes, and connect with colleagues. Additionally you can share your photos, find local things to do, and much more!
For all other device types (including BlackBerry, Windows, and all other web browser-enabled devices): While on your smartphone, point your mobile browser to http://app.core-apps.com/aann_em18 to be directed to the proper download version for your device. Should you have any questions, please contact support@core-apps.com
Headquarters Hotel and Meeting Space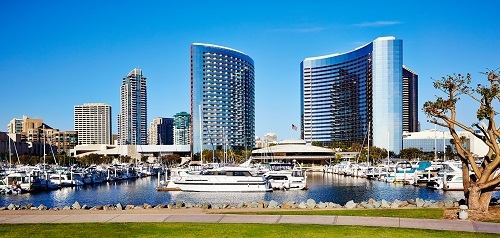 Marriott Marquis San Diego Marina
333 West Harbor Drive
San Diego, CA 92101

Front Desk & Reservations: (619) 234-1500
Personalized group link: https://aws.passkey.com/go/aann2018
Cut off: February 16, 2018

The limited, special rate is $270 (single/double), and the cut-off date is February 16, 2018. This special rate will apply until the cut-off date, or when the room block is filled; at that point, higher rates may apply. AANN has secured a limited number of sleeping rooms at the special discounted rate. Please be sure to make your reservations early and to indicate that you are attending the AANN conference.
Unofficial Housing Warning
From time to time, exhibitors and attendees are solicited by unaffiliated hotels or third party housing agencies. If you receive a call, email, or fax from a housing organization stating that they are calling on behalf of the American Association of Neuroscience Nurses Association (AANN) or they are the official housing service for the association, please know that this call is not affiliated with the association. Should you book your reservation outside of the AANN room block, the association will be unable to assist you with any issues you may encounter including: additional fees, harsh cancellation policy, lower quality rooms, and in some cases no reservation. The AANN has committed to a block of rooms for our attendees. To support our efforts to provide you a quality event, we ask that you book your housing accommodations using the reservation information provided on this web page.
Airline Information
Attn: Driver Licenses From Nine States Won't Be Valid IDs for Domestic Flights in 2018
Residents of Kentucky, Maine, Minnesota, Missouri, Montana, Oklahoma, Pennsylvania, South Carolina, and Washington will have to use alternate ID forms (passport, military ID, or permanent resident card) to pass TSA security checkpoints—even for domestic travel. Travelers from the nine states can either get a passport or wait and see if their state's laws change in time to comply with the TSA. Read more.
San Diego International Airport (SAN)
3225 N Harbor Dr
San Diego, CA 92101
(619) 400-2400
Los Angeles International Airport (LAX)
1 World Way
Los Angeles, CA 90045
(310) 646-5252
LA/Ontario International Airport (ONT)
2500 E. Airport Drive
Ontario, CA 91761
(909) 937-2700
Burbank Bob Hope Airport (BUR)
2627 N Hollywood Way
Burbank, CA 91505
(818) 840-8840
John Wayne Airport- Orange County (SNA)
18601 Airport Way
Santa Ana, CA 92707
(949) 252-5200
Long Beach Airport (LGB)
4401 E Donald Douglas Dr
Long Beach, CA 90808
(562) 570-2600
Palm Springs International Airport (PSP)
3400 E Tahquitz Canyon Way
Palm Springs, CA 92262
(760) 318-3800
McClellan-Palomar Airport (CRQ)
2192 Palomar Airport Road
Carlsbad, CA 92011
(760) 431-4646
Ground Transportation
San Diego International Airport to Marriott Marquis San Diego Marina
Distance: 3.3 miles
Drive time: 10 minutes
Estimated taxi fare: 15 USD (one way)
Los Angeles International Airport to Marriott Marquis San Diego Marina
Distance: 125 miles
Drive time: 1 hour 56 minutes
Estimated taxi fare: 225 USD (one way)
The Free Ride

The Free Ride is a free service that uses electric cars to give transportation to San Diego hotspots. Visit http://www.thefreeride.com/san-diego.php for more information. Hope on or wave down a free ride along the route.
Catch a ride any day of the week
Monday - Thursday: 7:00 a.m. to 9:00 p.m.
Friday: 7:00 a.m. to Midnight
Saturday: 8:00 a.m. to Midnight
Sunday: 9:00 a.m. to 9:00 p.m.
Parking
Valet parking is available at the hotel. AANN does not reimburse or offer discounts on parking rates.
Valet Parking: 45 USD daily
On-site Parking: 10 USD hourly, 30 USD/day
Off-site Parking: 37 USD daily
Weather/Conference Attire
In March, the temperature is an average high of around 75 degrees, with an average low around 50 degrees. Meeting room temperatures tend to vary. Please bring a light sweater or jacket to all meetings.
Local Information
For information on the city of San Diego, visit: http://www.sandiego.org/
For a list of restaurants in the area, visit http://www.sandiego.org/what-to-do/dining-nightlife/restaurants.aspx
Learn About the Fall Stroke Conference