Annual Educational Meeting Registration and Continuing Education Credits
Registration will open in November 2018. Check back this fall for 2019 registration fees and more information.
Why You Should Attend
The AANN Annual Educational Meeting focuses on helping neuroscience nurses build competencies for professional development. This annual event brings together nearly 1,000 of your colleagues to share best practices to advance the specialty and improve patient care.

"This conference opened my eyes to the power of nurses as researchers and to what a difference we can make in both our patients' lives and within the field of nursing."
—past Annual Educational Meeting attendee
On or Before 2/5
After 2/5
Member (open to RNs)
Active
$540
$640
Register & Renew
$664
$764
Associate (open to non-RN professionals who care for neuroscience patients)
Associate
$540
$640
Register & Renew
$624
$724
Student (open to full-time students
eligible for the NCLEX exam)

Student
$285
$385
Register & Join
$351
$451
Register & Renew
$351
$451
Register & Join (includes 1 year AANN membership)
Register & Join (Active)
$664
$764
Register & Join (Associate)
$624
$724
Register & Join (Student)
$351
$451
Non-Member (Meeting registration only with no membership included)
Non-Member
$764
$864
For registrants attending 1 day of the meeting only
| | | |
| --- | --- | --- |
| | On or Before 2/5 | AFter 2/5 |
| Member | $290 | $390 |
| Register & Join | $414 | $514 |
Preconference Workshops are an additional fee ranging from $65-$245.
Ways to Register
Register Online- Online registration is now closed. You can make changes to your registration on-site in San Diego at the registration desk located in the Marriott Grand Foyer.

Register by phone: 847.375.4733 or 888.557.2266, Mon-Fri, 8 am–6 pm CT

Register by mail: Print, complete the registration form, and mail to
AANN Meeting
PO Box 3781
Oak Brook, IL 60522


Register by fax: Print, complete the registration form, and fax to 847.375.6430
Group Registration Discount: Register 5 nurses, get 1 FREE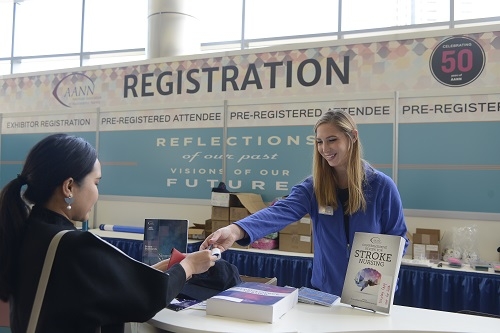 In order to help your institution take advantage of the caliber of education available to your staff at the Annual Meeting, special group registration discounts and promotions are available. Register 5 nurses, earn 1 free registration.
Here's how to register for the group discount.
1. Each registrant must complete an individual registration form.
2. All registrations must be mailed in a single envelope. Please mail to the address on the enclosed registration form.
3. Members of AANN may register at member rate.*
4. Interested nurses may take advantage of the join and register opportunity which provides one year of membership including registering at the member rate. (This is the best value, as join and register essentially includes a free year of AANN membership in the fee). The non-member full conference rate is the same as the join and register rate.
5. Send payment only for 5 registrants. The 6th is free. (For large staffs, every 5 registrations gets 1 free).
6. Send in the registration forms before February 5th to receive early bird pricing (a $100 savings).
Cancellation Policy
ALL CANCELLATIONS MUST BE MADE IN WRITING. A $100 processing fee will be charged for all cancellations postmarked more than 14 days before the event. No refunds will be made under any circumstances on cancellations postmarked after February 5, 2018.

AANN reserves the right to substitute faculty or to cancel or reschedule sessions because of low enrollment or other unforeseen circumstances. If AANN must cancel the entire meeting, registrants will receive a full credit or refund of their paid registration fee. No refunds can be made for lodging, airfare, or any other expenses related to attending the conference.
Continuing Education Credit
AANN is accredited as a provider of continuing nursing education by the American Nurses Credentialing Center's Commission on Accreditation.
The American Association of Neuroscience Nurses is accredited as a provider of continuing education by the California Board of Registered Nursing (CEP:13331)
Be aware of your own state board of nursing's continuing education requirements, especially if you live in a state where continuing education is mandatory. Attendees can earn 1 nursing contact hour for every 60 minutes of educational content by attending at least 90% of the session and completing and submitting evaluation forms within 30 days after the conference ends. The total number of contact hours that can be earned are as follows:
Preconference Workshops
8 contact hours for an 8-hour preconference or postconference workshop
4 contact hours for a 4-hour preconference or postconference workshop
2 contact hours for a 2-hour preconference or postconference workshop
Conference
18.75 contact hours for evaluating 75 posters (each poster evaluation is worth 0.25 contact hours)

11 contact hours for the entire conference (excluding posters, preconference sessions, and keynote and special lectures)
Additional Events
3.25 contact hours total for the Agnes M. Marshall Keynote Address and two Special Lecture session.
All contact hours are subject to change ast the Annual Meeting approaches.
Learn About the Fall Stroke Conference