Registration is open for the Virtual Annual Meeting!

The AANN Annual Educational Meeting focuses on helping neuroscience nurses build competencies for professional development. This annual event brings together nearly 1,000 of your colleagues to share best practices to advance the specialty and improve patient care. Learn more about this year's meeting.
"I can't say enough about what a wonderful conference this is and how valuable it is to neuroscience nurses at all levels of practice. I think it is very helpful to have staff nurses learning alongside APNs and PhD nurses. I want to impact the neuroscience nursing profession in the same way as many of the nurses I met at the conference."
—2019 Annual Educational Meeting attendee
Register early to save on neuroscience nursing education.
Group registration is also available.
Code of Conduct: Please review the virtual meeting Code of Conduct. We want this to be an enjoyable conference for everyone!
Full meeting registration
Early Bird
Before 3/4/21


After Early Bird
3/4/21


Member (open to RNs)
Active Member
$540
$640
Register and Renew
$665
$765
Associate (open to non-RN professionals who care for neuroscience patients)
Associate Member
$540
$640
Register and Renew
$635
$735
Student (open to full-time students eligible for the NCLEX exam)
Student Member
$285
$385
Register and Join
$380
$480
Register and Renew
$380
$480
Register & Join (includes 1 year AANN membership)
Active
$665
$765
Associate
$635
$735
Student
$380
$480
Nonmember (Meeting registration only - no membership included)
Nonmember
$764
$864
Nonmember Student
$285
$385
1-day meeting registration
Sunday, April 18 or
Monday, April 19 or
Tuesday, April 20


Early Bird
Before 3/4/21

After Early Bird 3/4/21
Member
$290
$390
Nonmember
$514
$614
Nonmember Register & Join
$415
$515
Pre-conference workshops are an additional fee
Pre-conference events help improve your practice and expand your influence. Learn more about pre-conference workshops.

Special events are an additional fee
Learn more about the special events available during the annual meeting.
Guest Pass: $85
The guest pass includes entrance to the exhibit hall. Guests may not claim CE.
AMWF Movie Screening of Brainstorm: $30
The movie is 55 minutes long and will be followed by a Q&A with documentation Stacia Kalinoski.
Ways to Register
847.375.4733 or 888.557.2266, Mon-Fri, 8 am–6 pm CT
Register by mail
Print, complete the registration form, and mail to
AANN Meeting
PO Box 3781
Oak Brook, IL 60522
Register by fax
Print, complete the registration form, and fax to 847.375.6430
Group registration discount: register 5 nurses, get 1 FREE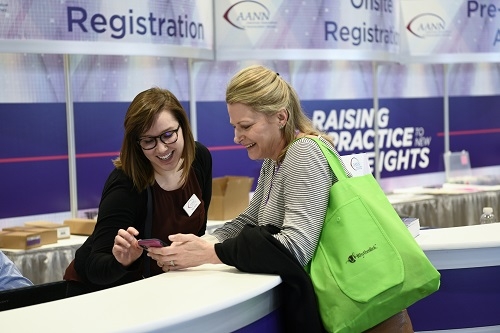 In order to help your institution take advantage of the caliber of education available to your staff at the Annual Meeting, special group registration discounts and promotions are available. Register 5 nurses, earn 1 free registration.
How to register for the group discount
Each registrant must complete an individual registration form.
All registrations must be mailed in a single envelope. Please mail to the address on the enclosed registration form.
Members of AANN may register at member rate.*
Interested nurses may take advantage of the join and register opportunity which provides one year of membership including registering at the member rate. (This is the best value, as join and register essentially includes a free year of AANN membership in the fee). The non-member full conference rate is the same as the join and register rate.
Send payment only for 5 registrants. The 6th is free. (For large staffs, every 5 registrations gets 1 free).
Send in the registration forms before Thursday, March 4th to receive early bird pricing (a $100 savings).
By registering for the Annual Meeting, you are giving your consent to be captured in photos and video, which may be used in various media for promotional purposes.
Cancellation Policy
Please carefully review the 2021 Annual Meeting Cancellation Policy.
ALL CANCELLATIONS MUST BE MADE IN WRITING. A $100 processing fee will be charged for all cancellations postmarked more than 14 days before the event. No refunds will be made under any circumstances on cancellations postmarked after Thursday, April 1, 2021.

AANN reserves the right to substitute faculty or to cancel or reschedule sessions because of low enrollment or other unforeseen circumstances. If AANN must cancel the entire meeting, registrants will receive a full credit or refund of their paid registration fee. If AANN must move the conference from an in-person event to a virtual meeting, registrants will have the option to request a full refund or transfer their registration to the virtual meeting. No refunds can be made for lodging, airfare, or any other expenses related to attending the conference.
LEARN ABOUT THE FALL STROKE CONFERENCE