Exhibit, Advertise, and Support at the AANN 51st Annual Meeting
The AANN exhibit program is developed to give exhibitors optimum contact with the leaders in neuroscience nursing.

View the Annual Meeting BrochureREGISTER NOW
Exhibit
The AANN exhibit program is developed to give exhibitors optimum contact with the leaders in neuroscience nursing. To promote exhibit floor traffic, an opening reception, lunch, breaks, and posters will all be held inside the exhibit hall.
Submit your application for exhibit space today for the best available location!
Educational Opportunities:
New Industry Posters
Meeting Location
Colorado Convention Center
700 14th Street
Denver, CO 80202
(303) 228-8000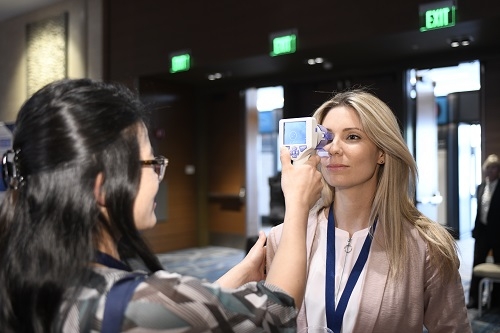 Exhibit Hall Hours*
Thursday, March 21
8 am–4:30 pm Exhibitor Setup/Registration
5:30–7:30 pm Opening Reception with Exhibits & Posters
Friday, March 22
9:30 am–3:45 pm Exhibitors & Posters
9:30–10:30 am Light Breakfast Break with Exhibits & Posters
11:40 am–1:15 pm Box Lunch with Exhibits & Posters
12:30 - 1 pm Corporate Showcase
2:55–3:45 pm Break with Exhibits & Posters
*Hours are subject to change.
Housing for Exhibitors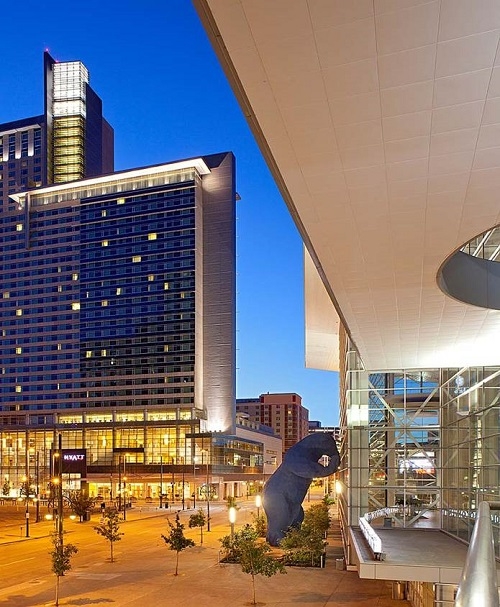 Headquarters Hotel
Hyatt Regency Denver
Hyatt Regency Denver
650 15th St
Denver, CO 80202
Rate: $220 (single/double) or $240 (triple/quad)
Cutoff Date: February 25, 2019
Check in time: 3:00pm
Check out time: 11:00am
Reservations Phone Number: 888-421-1442
Online Reservations: Click here to reserve your room online.

The limited, special rate is $220 (single/double) or $240 (triple/quad), and the cut-off date is February 25, 2019. This special rate will apply until the cut-off date, or when the room block is filled; at that point, higher rates may apply. AANN has secured a limited number of sleeping rooms at the special discounted rate. Please be sure to make your reservations early and to indicate that you are attending the AANN conference.
Unofficial Housing Warning
From time to time, exhibitors and attendees are solicited by unaffiliated hotels or third party housing agencies. If you receive a call, email, or fax from a housing organization stating that they are calling on behalf of the American Association of Neuroscience Nurses Association (AANN) or they are the official housing service for the association, please know that this call is not affiliated with the association. Should you book your reservation outside of the AANN room block, the association will be unable to assist you with any issues you may encounter including: additional fees, harsh cancellation policy, lower quality rooms, and in some cases no reservation. The AANN has committed to a block of rooms for our attendees. To support our efforts to provide you a quality event, we ask that you book your housing accommodations using the reservation information provided on this web page.
Advertise and Support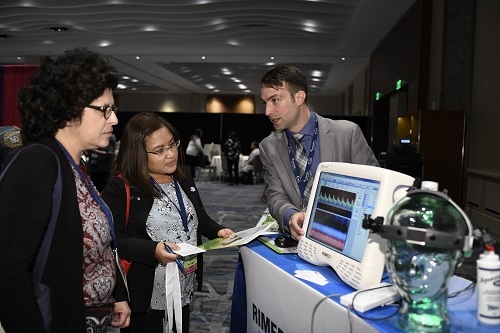 The meeting is expected to draw more than 1,100 leaders in neuroscience nursing. Make sure you get noticed! Take advantage of our variety of advertising and support opportunities.
Corporate Showcase
Showcase your company's products, services, or programs by conducting a seminar or product demonstration. Corporate showcase sessions are 30 minutes in length and will be held in a designated area in the exhibit hall, set up in theatre style for 100 attendees. Please note that sessions are unopposed with any educational programs. Corporate showcase sessions are assigned on a first-come, first-served basis pending AANN approval. The showcase fee is $15,000 and must accompany your completed corporate showcase application. Showcases are only available to those who purchase an exhibit booth.
Download the Corporate Showcase application
CE and Non-CE Symposia
Passport Program
This program directs attendees to your booth in the exhibit hall. When attendees get their passport stamped by participating exhibitors, they are eligible for special prize drawings in the exhibit hall. Reach your audience with this special and fun program; it's a great way to connect with attendees and drive foot traffic to your exhibit.
Download the Passport Program application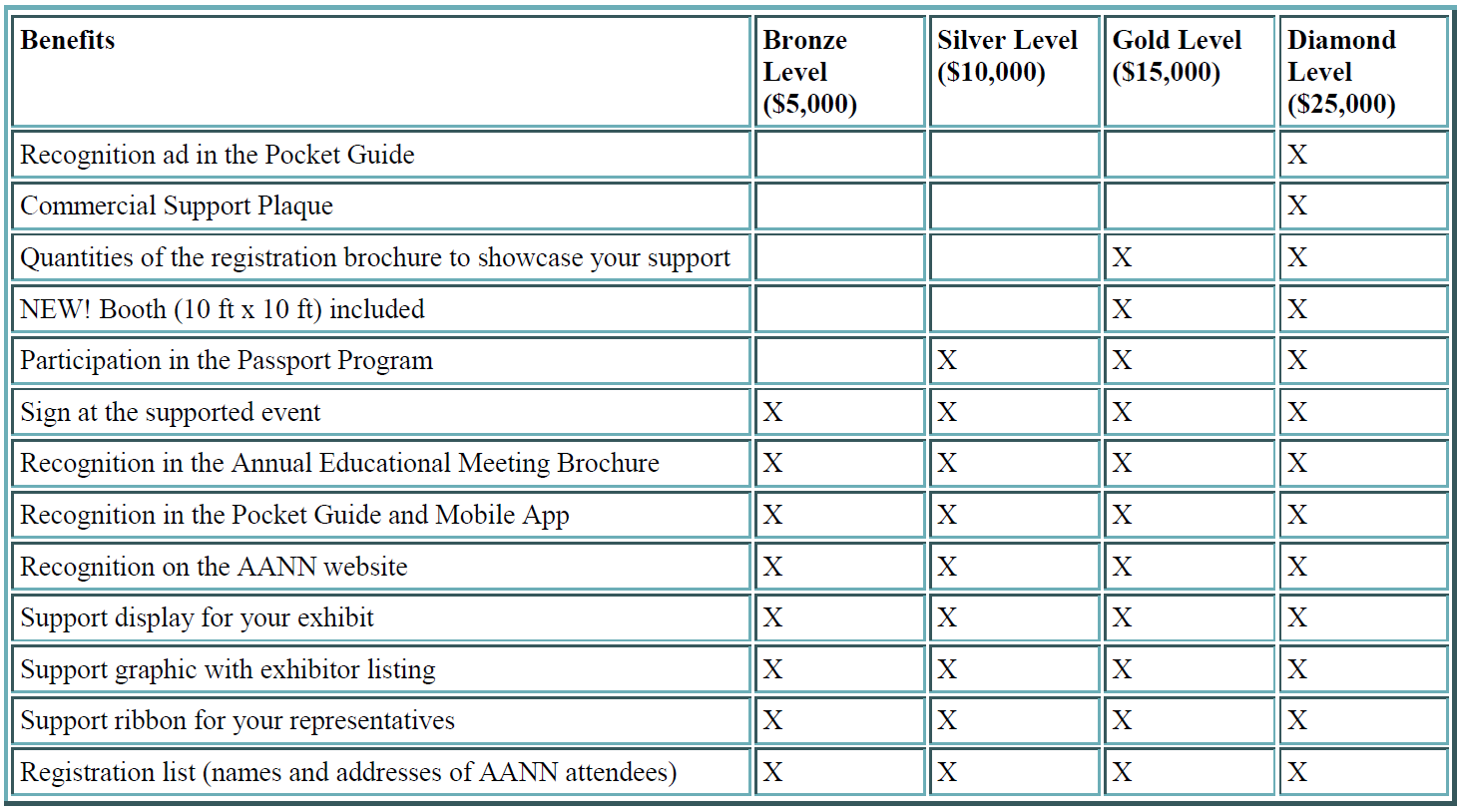 Opening Reception—$15,000
This event kicks off the Annual Meeting in the exhibit hall. You will receive excellent visibility through signage at the events.
Tote Bags/Portfolio—$10,000
As the attendees register, they will receive the tote bag filled with meeting information. The bag will feature your company logo providing you high visibility.
Tech Corner—$10,000
E-mail/Internet stations will be available to attendees for meeting information, print handouts, and for their online CNE evaluations. Your company will be recognized on all computer screens and on the kiosks.
President's Reception—$10,000
This invitation-only reception will include the AANN leaders. You will receive recognition at this event through signage and napkins featuring you logo. Invite your leadership with the 5 additional invitations you will receive.
Keycards—$10,000
Attendees registering at the headquarter hotel will receive a keycard with your logo and message.
Massage Area—$10,000
Have your company logo on a "relaxation lounge" where massages will be provided to attendees.
Photo Booth in the Exhibit Hall—$5,000
Support a photo booth where attendees can take pictures with their friends and colleagues and then pick up their printed photos in your booth.
Headshots in the Exhibit Hall—$5,000
Support the Headshot area where nurses can receive a professional headshot for their career development.
Lanyards—$5,000
Have your company logo on the official AANN badge holder/lanyard and receive high visibility.
Continental Breakfast—$5,000
As the supporter, you may provide napkins, cups, and candy with your logo for use at the refreshment area.
Bag Insert—$3,000
Your material is included in the attendee bag given on the first day at the registration counter.
Beverage Breaks—$3,000
As the supporter you may provide napkins and cups with your logo for use at the refreshment area.
Mobile App Banner Ad—$1,250
AANN will once again be providing a convenient mobile app that attendees can download and access frequently to provide up-to-the-minute room changes, a full listing of all sessions and speakers, exhibitor and sponsor information, maps, and everything an attendee should reference during the Annual Conference. The majority of attendees will use the app constantly throughout the Annual Conference and this is a great place to gain visibilty with a banner ad. For more information, click here.
Have additional questions about exhibit or sponsorship opportunities? Please contact Mary Paulson, AANN Professional Relations Manager, at 847.375.4803 or mpaulson@aann.org.