Exhibit, Advertise, and Support at the 2021 AANN Annual Educational Meeting
This year the Annual Meeting is Hybrid
April 17–April 20, 2021 | San Antonio, TX
Quick Links
Already signed up? Here are the next steps!
Exhibitor Badges - coming soon!
Decorator Kit - coming soon!
Lead Retrieval - coming soon!
Exhibit Floor Plan - coming soon!
Exhibit Hours
Coming soon for 2021!
Educational Sponsorship Opportunities
Industry Posters: Submission Instructions (PDF) and Request Form (PDF)
Non-CE Symposia: Guidelines (PDF) and Application (PDF)
Read more about these opportunities and more below.
---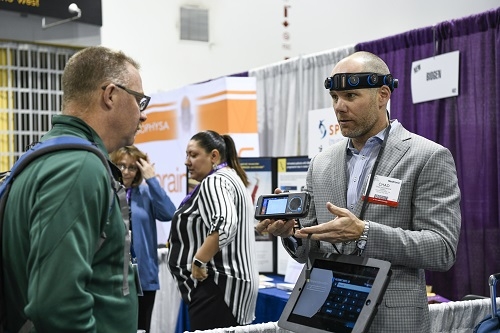 Meet the Leaders in Neuroscience Nursing
Our nurses have buying power! Neuroscience nurses frequently recommend products to patients or are involved in purchasing products for their facilities. The AANN Annual Educational Meeting is where you need to be! Exhibitors at our conferences can
generate new leads for future sales
test new products and services with their target audience
fill positions at their hospital or facility
speak directly with leaders in neuro nursing.
Complete a booth application today to secure your spot!
Get in front of neuroscience nurses with these Annual Educational Meeting sponsorship opportunities.
Get optimum contact with leaders in neuroscience nursing at the AANN Annual Educational Meeting. All meals, breaks, poster presentations, and the opening reception are held in the exhibit hall, bringing more than 1,100 neuro nurses to you. Check out the exhibitor prospectus for more information. To get the best location available in the hall, complete your booth application for exhibit space today.
For more information about exhibiting, sponsoring, or advertising at the AANN Annual Educational Meeting, please contact AANN Professional Relations Manager Mary Paulson, by email or at 847.375.4803.
In addition to exhibiting at a booth, check out these sponsorship opportunities that will increase your visibility at the meeting:
Opening Reception—$15,000
This event kicks off the Annual Meeting in the exhibit hall. You will receive excellent visibility through signage at the events.
Tote Bags/Portfolio—$10,000
As attendees check in, they will receive the tote bag filled with meeting information. The bag will feature your company logo providing you high visibility.
Tech Corner—$10,000
E-mail/Internet stations will be available to attendees for meeting information, print handouts, and for their online CNE evaluations. Your company will be recognized on all computer screens and on the kiosks.
President's Reception—$10,000
This invitation-only reception will include the AANN leaders. You will receive recognition at this event through signage and napkins featuring you logo. Invite your leadership with the 5 additional invitations you will receive.
Keycards—$10,000
Attendees registering at the headquarter hotel will receive a keycard with your logo and message.
Massage Area—$10,000
Have your company logo on a "relaxation lounge" where massages will be provided to attendees.
Photo Booth in the Exhibit Hall—$5,000
Support a photo booth where attendees can take pictures with their friends and colleagues and then pick up their printed photos in your booth.
Headshots in the Exhibit Hall—$5,000
Support the Headshot area where nurses can receive a professional headshot for their career development.
Lanyards—$5,000
Have your company logo on the official AANN badge holder/lanyard and receive high visibility.
Continental Breakfast—$5,000
As the supporter, you may provide napkins, cups, and candy with your logo for use at the refreshment area.
Bag Insert—$3,000
Your material is included in the attendee bag given on the first day at the registration counter.
Beverage Breaks—$3,000
As the supporter, you may provide napkins and cups with your logo for use at the refreshment area.
Mobile App Banner Ad—$1,250
AANN will once again be providing a convenient mobile app that attendees can download and access frequently to provide up-to-the-minute room changes, a full listing of all sessions and speakers, exhibitor and sponsor information, maps, and everything an attendee should reference during the Annual Conference. The majority of attendees will use the app constantly throughout the Annual Conference and this is a great place to gain visibility with a banner ad. Learn more about app advertising (PDF).
Take advantage of these opportunities for visibility before time runs out!
Reserve Now
Join the Passport Program
This program directs attendees to your booth in the exhibit hall. When attendees get their passport stamped by participating exhibitors, they are eligible for special prize drawings in the exhibit hall. Reach your audience with this special and fun program; it's a great way to connect with attendees and drive foot traffic to your exhibit.
Sign up for the Passport Program today!
New – Innovation Corner
The Innovation Corner is a special pre-conference session connecting neuroscience nurses with the latest technologies and innovations in neuroscience care. Showcase your products and meet face-to-face with attendees interested in learning about the latest treatments, devices, and products that enhance nursing practice and patient care and outcomes.
Innovation Corner will feature up to 8 stations with hands-on demonstration of new technologies and innovations. The Innovation Corner and its exhibitors will be promoted on the AANN website, mobile app, and signage. There will also be a special meeting attendee e-blast featuring the name, logo, and a brief description of Innovation Corner exhibits.
Sponsorship Levels
The more you participate, the higher your visibility. Check out these sponsorship levels and how you can maximize your exposure with leaders in the field of neuroscience nursing.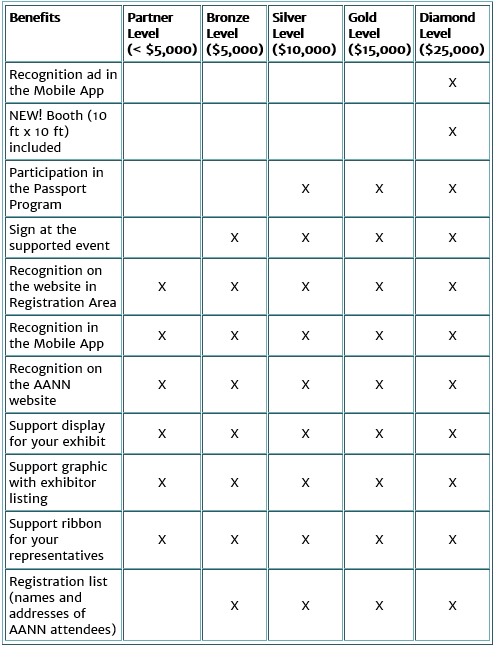 Have additional questions about exhibit or sponsorship opportunities? Please contact Mary Paulson, AANN Professional Relations Manager, at 847.375.4803 or mpaulson@aann.org.