Preconference Events to Help Improve Your Practice and Expand Your Influence
The following are extra-cost events, not included in the Annual Meeting registration fee. Preregistration is required.
Saturday, April 18
8 am–5 pm
Level: Intermediate
Track: Special Topics
(001) CNRN Review Course
Course Director: Erin Fecske, DNP APRN CNRN CPNP


This abbreviated, 1-day review course will get you on the right track in preparing you for the CNRN. Spend the morning reviewing anatomy and physiology to provide you with a basis for understanding neurological disease process. The afternoon will focus on providing an overview of several topics you will find on the CNRN exam, with a focus on subspecialty topics such as immune/infection, chronic disease/care, and pediatrics.
8 am–5 pm
Level: Intermediate
Track: Movement Disorder
(002) Overview of Treatment and Care for Parkinson's Disease for the Advanced Nursing Professional
Course Director: Lawrence Elmer, MD PhD

As the number of patients with Parkinson's disease (PD) increases, there is a growing need for nurses to understand, treat, and care for these patients. Attendees of this workshop will be guided by a faculty of nursing professionals that will provide lectures and panel discussions to instruct attendees to become more expert on working with PD from the beginning to late stages of the disease progression. Topics will include advances in the medical and surgical management of PD, as well as the growing role of interdisciplinary approaches and exercise in the management of PD. This course will aim to provide the attendees with relevant knowledge on the care of PD, but will also include a short overview of PD and other movement disorders as a knowledge base to the course.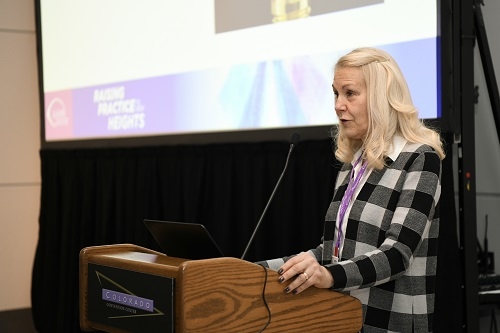 8 am–10 am
Level: Beginner
Track: Special Topics
(003) Basic Neuroimaging: More Than Fifty Shades of Grey
Cathy Cartwright, MSN RN FAAN; Rachel Malloy, MSN RN SCRN CNRN

Interpreting neuroimaging gives an added dimension to understanding the complexity of the neuroscience patient. It also allows the neuroscience nurse to review images with the family so they might gain a better understanding of the diagnosis. Yet many neuroscience nurses do not have the opportunity to learn the basics. This presentation will discuss CT, MRI, shunt series, shunt-ogram, ultrasound, angiography, perfusion studies, and the use of contrast media, including the rationale for ordering each scan.
8–10 am
Level: Beginner
Track: Movement Disorder
(004) Usual and Unusual Neurological Syndromes—and Ones that Make You Go Hmmmm?
Kathryn Funk, MSN RN SCRN CNRN

This session will introduce the audience to some of the more unusual neurological conditions, such as Supranuclear Palsy and Acute Flaccid Myelitis, and provide a comparison of these conditions with some of the more common neurological conditions such as stroke, seizure, and Parkinson's. The lecture will include case studies and pictures to allow audience participation to help discern the differences and similarities among the various neurologic syndromes. The lecture will end with coverage of some really rare and interesting neurologic conditions such as Capgras Delusion, Alien Hand Syndrome, and Cotard's Syndrome.
8 am–Noon
Level: Intermediate
Track:
(005) 3D Brain and Spine Anatomy and Pathology
Linda Littlejohns, MSN RN SCRN CNRN FAAN

If you have been puzzled by your patients' symptoms and have wondered how to plan their care or discuss the problem with them, their family, or other healthcare team members, this session is for you. A sound knowledge of brain and spine anatomy is essential for neuroscience nursing practice, and the 3D Anatomage program is invaluable in answering all your questions as we discuss stroke, trauma, and degenerative diseases.
1–5 pm
Level: Intermediate
Track: Special Topics
(006) Anesthesia 101 for the Neuroscience Nurse: Understanding Its Role and Use in the Neuroscience Patient Population along the Continuum of Care
Cindy Blank-Reid, MSN RN TCRN CEN; Caleb Rogovin, MS CRNA CCRN CEN

Every year thousands of neuroscience patients receive anesthesia or anesthetics in a multitude of settings With the different types of anesthetics patients are receiving, the nurse all too often has little knowledge of the side effects or complications that can occur once the patient is under their care and the peri-operative team is no longer present. This lecture will discuss the most common anesthetic agents a neuroscience patient might receive during a procedure, including routes, doses, benefits, complications, nursing care implications, and side effects. Discussion will include an array of agents utilized for various neuro procedures in addition to anesthetics to avoid with various neuro diseases and injuries. Specific anesthesia will be discussed in addition to pain management.
1–5 pm
Level: Intermediate
Track: Spine
(007) Spinal Cord Injury: From Roadside to Rehab and Beyond
Course Director: Dea Mahanes, DNP RN CCNS CNRN FNCS
This session is supported by Grant #854 from the Paralyzed Veterans of America Education Foundation
Spinal cord injury (SCI) significantly impacts patients and their families, from the initial injury through hospitalization, rehabilitation, and return to the community. Nurses with knowledge of current evidence can contribute to improved outcomes. This session will review best practices in the care of SCI patients across the continuum, including early management strategies, prevention of complications, and attention to psychological and social factors.
AANN is accredited as a provider of nursing continuing professional development by the American Nurses Credentialing Center's Commission on Accreditation. All contact hours are subject to change as the Annual Meeting approaches.