Featured Speakers at the Virtual Stroke Conference

Wednesday, August 19 from 8 am-3:30 pm CDT
SCRN Review Course
Speaker: Cynthia Bautista, PhD RN ACNS-BC CCNS CNRN SCRN FNCS
This Stroke Review Course will provide a comprehensive review for nurses preparing for the stroke certification exam, as well as nurses interested in updating, enhancing, and increasing their knowledge base in the stroke patient care settings.
Fee: $120

Thursday, August 20 from 9 am-1 pm CDT
3D Stroke Anatomy and Assessment
Speaker: Linda Littlejohns, MSN RN CNRN SCRN FAAN
This session dives deeply into the vessels and structures in the brain using Anatomage 3D software, color coded vessels, and case studies. You will gain a better understanding of stroke assessment, potential deficits, and challenges as the patient moves from a stroke diagnosis to recovery expectations and rehab needs.
Fee: $60

Friday, August 21
Keynote Session
Young Stroke: Bridging the Continuum of Care
Speaker: Amy Edmunds
The increasing global prevalence of stroke among young adults transforms a once familiar diagnosis to a more perplexing trend across the continuum of stroke care. Neuroscience nurses are challenged to bridge public awareness to clinical response, and clinical response to rehabilitation to ensure community reintegration. From her unique patient perspective, combined with NIH award-winning expertise, Amy examines patient-centered practices for community hospitals, bedside care delivery, and rehabilitative services to raise awareness of unmet needs for this population.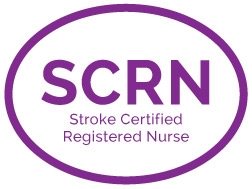 Remaining 2020 SCRN Exam Windows
Exam Window: September 1-30, 2020 Register by: August 6, 2020
Continuing Education Credit
The American Association of Neuroscience Nurses is accredited as a provider of continuing nursing education by the American Nurses Credentialing Center's Commission on Accreditation.
The American Association of Neuroscience Nurses is accredited as a provider of continuing nursing education by the California Board of Registered Nursing (CEP: 13331).
Successful completion: Participants must be registered for the conference and attend the sessions(s). Attendees can be awarded 1 nursing contact hour for every 60-minute educational session they attend and evaluate. Each participant will receive a username and password to complete an online evaluation. Participants must complete a form for each session they attend and an overall conference evaluation to receive contact hours.
Contact hours available for each component of the event are as follows:
• Posters: 15
• Virtual AANN Advances in Stroke Care Conference*: 33.75 CE
*Full conference CE and posters
Planning Committee Members
Kathryn Funk (Chair)
Kiffon Keigher (Co-Chair)
Mary Amatangelo (Past Chair)
Arlene Boudreaux
Angel Duzan
Grace Potter
Madona Plueger (Board Liaison)
Julie Zeeman (Nurse Planner)
Kathryn Funk is an employee of the Joint Commission. Kiffon Keigher is an employee of the Joint Commission and is on the Speakers Bureau for Cerenovus. Madona Plueger is a recipient of a grant from the CDC. There are no other relevant relationships to disclose.