Special Events
Saturday, April 17
Noon-1 pm
Afternoon Non-CE Symposium
Supported by Janssen Pharmaceuticals, Inc.
Virtual
Title: New Treatment Option in Multiple Sclerosis: Addressing Unmet Needs
Speaker: Amy Perrin Ross, APN, MSN, CNRN, MSCN
Neuroscience Program Coordinator
Maywood, Illinois
This presentation will review the disease burden of MS and share key safety and efficacy data from a landmark oral-to-oral clinical trial.
Sunday, April 18
12:30-1 pm
Product Theater
Supported by Neurocrine Bioscience
Virtual
Title: ONCE-DAILY ONGENTYS® (OPICAPONE) CAPSULES: AN EARLY LEVODOPA/CARBIDOPA PARTNER FOR OFF TIME IN PARKINSON'S DISEASE
Faculty:
Jill Giordano Farmer, DO, MPH
Assistant Professor of Neurology
Drexel College of Medicine
Philadelphia, PA
Director, Parkinson's Disease and Movement Disorder Program
Global Neurosciences Institute/ Robert Wood Johnson Hamilton
Lawrenceville, NJ


3:55-4:10 pm
Newcomer's Reception
Attending your first AANN Annual Conference? Join us at the Newcomer's Reception to meet other first timers and AANN leaders. Mingle with AANN leaders and make new friends.


5:20-6:30 pm
Awards Presentation and Opening Reception
Watch the presentation of the AANN, JNN, and ABNN awards then mingle with your neuroscience nursing colleagues.
Monday, April 19
11:25-11:55 am
Product Theater
Supported by Greenwich
Virtual
Title: Cannabis: Where are we now?
Cannabis has been the focus of considerable debate, advocacy, and policy, generating both interest and misinformation. This presentation will provide an overview of cannabis and cannabinoid terminology, current regulations, and web-based resources available for continued learning.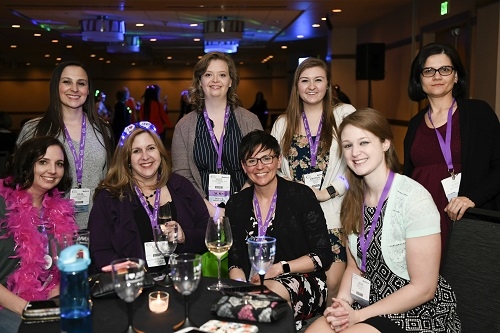 12:45-1 pm
Non-CE Symposium
Supported by Sunovion Pharmaceuticals
Virtual
Title: Current Strategies in the Diagnosis and Management of Patients with Parkinson's Disease
Speaker: Eric J. Pappert, MD
Executive Medical Director, Sunovion Pharmaceuticals, Inc.; Movement Disorder Specialist, Parkinson's Disease and Movement Disorders Center, San Antonio, TX
This presentation will review the approach to diagnosing Parkinson's disease, and will discuss ways to recognize and treat motor complications in PD patients.
Non-CE Symposium
Supported by Biogen
Virtual
Title: Identifying Early-stage Alzheimer's Disease: The Importance of Early Recognition and Diagnosis
Program provides an overview of Alzheimer's disease (AD), the scope of its burden and impact, neuropathological changes and clinical symptoms across the AD continuum, rationale and process for early detection, and potential implications for patients and the healthcare system
6-7:30 pm
AMWF Movie Screening of Brainstorm

Extra $30 fee applies.

How does the brain suddenly start short-circuiting and cause strange, uncontrollable behaviors? With multiple types of seizures, education is needed to dispel myths and misunderstandings surrounding epilepsy. Brainstorm aims to reduce the stigma through education, with a focus on the denial, hope and determination that comes with living with seizures. Stacia Kalinoski, a former college football coach, a young boy in Atlanta and their families share their struggles and triumphs to raise awareness.
The movie is 55 minutes long and will be followed by a Q&A with documentation Stacia Kalinoski. An additional $30 fee applies.
Learn About the Advances in Stroke Care Conference
See the List of Past Conferences