Exhibit Hall Hours and Travel Information for AANN Conference Exhibitors
Exhibit Hall Hours* at the Colorado Convention Center Exhibit Hall F
Location: The Colorado Convention Center Exhibit Hall F
See the Exhibit Hall Floor Plan
Thursday, March 21
8 am–4:30 pm—Exhibitor Setup/Registration
5:30–7:30 pm—Opening Reception with Exhibits & Posters
Friday, March 22
9:30 am–3:45 pm—Exhibitors & Posters
9:30–10:30 am—Light Breakfast Break with Exhibits & Posters
10–10:30 am—Corporate Showcase
11:40 am–1:15 pm—Box Lunch with Exhibits & Posters
12:15–12:45 pm—Corporate Showcase
2:55–3:45 pm—Break with Exhibits & Posters
*Hours are subject to change.
Badge Portal and Decorator Kit
Register your Booth Staff and pick up your badges at the registration counter in the Colorado Convention Center Lobby F Foyer.
Order booth furnishings and signage by Thursday, February 28 for best pricing. Monday, March 18th is the last day for Advance Shipments to arrive at the warehouse without surcharges.
Lead Retrieval Equipment Rental
You can rent lead retrieval equipment from QMS for use at the AANN Annual Conference. qConnection is a user-friendly app that includes real-time reporting and customization to suit your needs. Rates increase after February 25, 2019. Learn more about the app, and order one now online or by fax or mail.
Housing for Exhibitors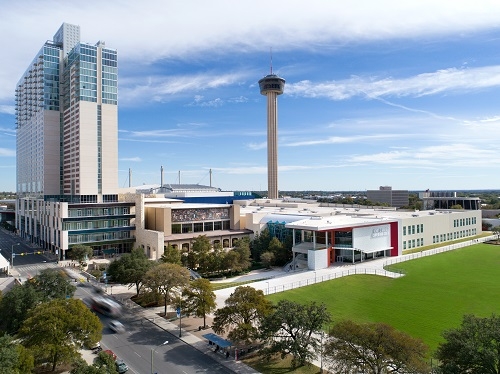 Hotel Location
Grand Hyatt San Antonio
600 E Market St
San Antonio, TX 78205
(210) 224-1234
Rate: $228 (single/double), $253 (triple), or $278 (quad)
Grand Hyatt Reservation Center: (210) 451-6363 refer to group name AANN
Cutoff Date: Monday, March 22, 2021
Online Reservation Link: Click here for online reservations.
The limited, special rate is $228 (single/double), $253 (triple), or $278 (quad) and the cut-off date is March 22, 2021. This special rate will apply until the cut-off date, or when the room block is filled; at that point, higher rates may apply. AANN has secured a limited number of sleeping rooms at the special discounted rate. Please be sure to make your reservations early and to indicate that you are attending the AANN Conference.
Unofficial Housing Warning
From time to time, exhibitors and attendees are solicited by unaffiliated hotels or third party housing agencies. If you receive a call, email, or fax from a housing organization stating that they are calling on behalf of the American Association of Neuroscience Nurses Association (AANN) or they are the official housing service for the association, please know that this call is not affiliated with the association. Should you book your reservation outside of the AANN room block, the association will be unable to assist you with any issues you may encounter including: additional fees, harsh cancellation policy, lower quality rooms, and in some cases no reservation. The AANN has committed to a block of rooms for our attendees. To support our efforts to provide you a quality event, we ask that you book your housing accommodations using the reservation information provided on this web page.